Liberation of Hyrule: Insanity's Extreme
Submitted

January 19, 2017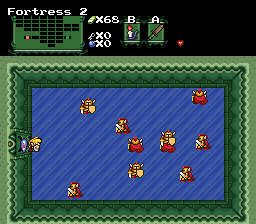 Download Quest
Description
This quest was made for me and my unique taste and preferences. I like to play very hard quests and LoH:IE is my dream come true. Most Zelda players do not share the same taste and preferences that I do and as such my quest will probably not be enjoyable to most players. Please do not play this if you do not like hard quests - it will end very badly if you attempt to do so.
Story
Hyrule has been conquered by Ganon. You and your band of rebels must liberate Hyrule from his tyranny.
Credits
Ouch!, Gleeok and Yloh
Hints and/or Cheats
There is no password so if you really must cheat just open the quest and edit it yourself. Doing this counts as a forfeit.
This entry has no reviews.