MegaMan Data Quest
Submitted

November 12, 2012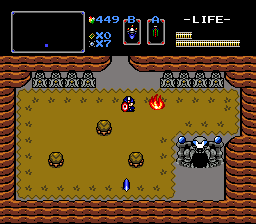 Download Quest
Description
This is a MegaMan game made long ago with old tiles. I upgraded them to newfirst tiles so it took sometime. This is my first game so its not that puzzling or difficult.
Most tiles were made by me, and some are from newfirst as in the scenery.
This game is about a normal to easy difficulty except for the last boss my be hard.
Story
No one knows where megaman has come from. He awakens in a lost land were his quest is to find his memory chip to regain the past and remember where he came from. Megaman begins with help from some related characters to keep going on to his final destination and reach the captured Roll who possesses his chip. Now he's lost and its up to himself to get back from where he came from.
Credits
Credits for this game are givin to the followin:
Spade: as in me for makin it
PolygonX8: provided alot of help with lots of items and
making
Ace: My brother who helped me plan out some of the items
and such
and a few others who played, tested and gave me props to keep it going.
Hints and/or Cheats
Try to have a potion with you at all times just in case things get a little tough. Make sure to always check walls and grounds very closely because you'll just about always find a difference in the tiles placed around. One great tip is to take your time and pace yourself or you can get killed very quickly. You earn all 24 hearts so just watch your moves. One thing is the ending. Make sure to try your best to live the impossible.
This entry has no reviews.