Legend Of Zelda: Thug In Hyrule
Submitted

November 12, 2012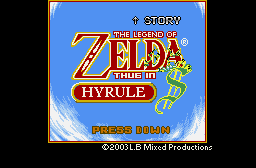 Download Quest
Description
This is my first full release of a ZC quest. Using the Majora's Mask ZC tileset, and inspired by Wild Bill's Fall uh de Honky Pig", and my co-creator also brother's love for hip hop music and culture, Thug in Hyrule is the common save Zelda story where everything is thugged out. The whole entire game is in urban slang, and the characters have been modified in that fashion. Link is even fitted with his blue outfit with white Air Force Ones sneakers. The soundtrack features all of todays hottest hip hop acts from Eminem to Destiny's Child. (Please note that there is a few instances of strong language)
Story
This is but one of that legends of which tha fellas spit...
Back in tha day, there was dis one gangsta from tha
streets of Hyrule. Peeps called him "Tha Hero of Time"
But his homeboys tagged him "Link"
This ni**a had mad skillz wid tha sword and beat
the s**t out of that hater Ganondorf.Ganondorf was
feignin tha trifo'ces and got that one
chick, Zelda.
Wid all of Hyrule stressin over Ganon, nobody wanna step
up to him. Everybody and they momma's lookin for Link
to punk that fool. Now Link's fynna get his trifo'ces
and thump Ganon 4 tha last tyme.
Credits
Ray T. and Leon B. of L.B. Mixed Productions,
Warlock and PerfectGreg for the tilesets.
Wild Bill for inspiration.
---------
Full Credits displayed once you finish the game.
Hints and/or Cheats
1.) Press Up when you are on the raft to get to the heart container piece.
2.) Play the ocarina at the fairy fountain to better your sword.
This entry has no reviews.