Zelda's Butt
Submitted

November 14, 2012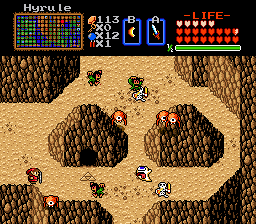 Download Quest
Description
My first and only quest! Features:
9 Main "dungeons"!
Many outdoor areas!
Some traditional-style dungeons!
Plenty of original artwork!
Many secrets and optional content!
😐 No awkward custom bosses!
No pretentious storyline!
Confusing Overworld for you to get lost in!
Interesting "dungeon" ideas, probably done before!
No dungeon where you have to change the water level!
Started in 2005 and delayed due to crippling depression!
Who is this Spram and why should you play this thing?
Story
YESTERDAY NOON PRINCE
DARKNESS GANNNNNNON STOLE
ONE OF THE TRIFORCE WITH
POWER. PRINCESS ZELDA
OF THE HAVING NICE BUTT
HAD ONE OF THE TRIFORCE
WITH WISDOM. SHE DIVIDED
INTO "8" UNITS TO HIDE
IT FROM GANNMNNNNMNMNMNNON BEFORE
SHE WAS CAPTURED.
GO FIND THE 8 UNITS
"LINK" TO SAVE HER.
Credits
Graphics stolen from the following games/series: Zelda, Final Fantasy Adventure, Final Fantasy Legend, Crystalis, Dragon Quest, Rolan's Curse, Startropics, Lufia and maybe more! Most Graphics made by me, really!
Music mostly taken from vgmusic, thanks random people!
Hints and/or Cheats
I included a walkthrough in the zip file if you get lost. I'll try to be around the message boards when the game "comes out" to help.
Once you get the hammer, you can find the Goriya City which sells the "red bomb". Use the Eye (of truth) on suspicious things and if you see a hidden Triforce symbol, use the bomb to enter an optional "Challenge Dungeon".
Mastering the game will net you the magic words!
I didn't even knew there was a 2.50 until today. Use 2.10 for best results.
I got better at making this quest as I learned, so try to bear with the crappier early parts, it might get better, maybe.
This entry has no reviews.