ABITHF (A Battle in the Hyrulian Fields)
Submitted

November 14, 2012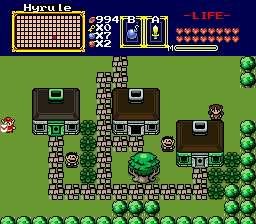 Download Quest
Description
BS graphics... It took me a month to get the palettes and the tiles...
Took me another month for the game... And I added a few touches to it which took me 2 or 3 days.
FIXED THE ARROW GLITCH AND THE FLIPPER GLITCH!
AND FIXED THE HEART CONTAINER GLITCH!
Credits
XDRAGONSB
I did everything myself.
Hints and/or Cheats
SPOILERS!:Slash pots in a house to gain money very fast.
This entry has no reviews.