Janine's First Quest
Submitted

November 15, 2012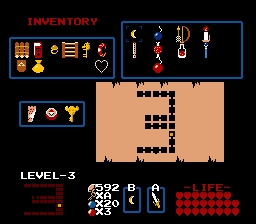 Author
Janine/Matthew Bluefox
Download Quest
Description
Greetings everyone, my name is Janine, butt you can call me Jane. I and my brother Matt have had too much time, I guess, so we created a very own version of the original first quest with completely re-designed dungeons, various modified color palettes and even some new items such as the golden arrow, the golden ring, the golden boomerang, the mirror shield, the red super bombs, the money bags for 500 and 999 rupees, each dungeon with an own boss key (well hidden in Level 9), and many other new things (e. g. enemies, shops, heart containers and HC pieces).
Hints and/or Cheats
Document in the Zip.
This entry has no reviews.