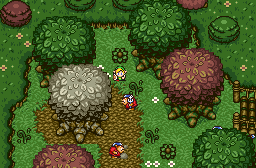 Download Quest
Description
\"Linked to the Past\" is a BIG quest that will keep you busy for a long time if you\'re enjoying it. In case you are wondering, it is a completely original quest, I\'ve chosen that name because the storyline involves Link travelling to the past, and also obviously as a nod to the great SNES LttP game, but it is not a remake or anything, it is a completely new quest.
Features:
- 30 different dungeons
- 20-30 hours of gameplay
- Every single dungeon is guarded by a custom boss, and there are also a few sub-bosses thrown in for good measure, so I hope you enjoy fighting bosses as much as I do
- Many optional secrets to find
- The quest takes influences from several Zelda games but the biggest influence is still Zelda 1, so if you\'re a Zelda 1 hater, this is probably not for you
Story
When the story begins, Link has just become an adult and must pass three trials to prove himself worthy as a fighter.
After he succeeds with the trials, everybody in the village is getting ready for a celebration, but then Ganon shows up and ruins everything.
Guess who is going to be sent to fix things up?
Credits
Quest design: Jamian
Tileset: Radien. Extra tiles: Anthus, Bayta, Beefster, Bourkification, CastChaos, Eric X, Evile, GameLink7, Jamian, Jeremy850, Jupiter, KingHarkinian, Nicklegends, NineLives, NoeL, PrinceMSC, Shonox, Teeks, Venom343,Warlock
Scripts: MoscowModder, Blackbishop89, Saffith, Joe123, Orin XD, Theryan, Jamian
Music: Vgmusic.com for the most part
Testers: Arieltap, Artistic, Chiefbigcalf, Gold Ring, Mister Snooze, Ryunaker