Starshooter Supreme for 2.50 Final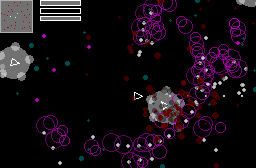 Download Quest
Description
This is an arcade-shooter in the style of Asteroids, Solar Wars, Space Duel, and similar old vector games, that Gleeok developed back in the 2.5 beta days. I updated some instructions so that it runs on 2.50.0 and later, however I never did fix the score display.
Aside from that, everything works, and it's a blast to play if you enjoy this sort of game.
Story
THEY CAME SUDDENLY FROM THE STARS.
OUR RESISTANCE ONLY HASTENED
THE RATE OF OUR EXTERMINATION.
RELENTLESSLY AND MERCILESSLY THEY
DESTROYED EVERYTHING BUT NOTHING.
WE HAD NO CHOICE BUT TO ASSEMBLE WHAT
REMAINING SHIPS WE HAD AND FLEE.
IT WAS CONCLUDED THAT THEY WERE USING
THE STARS TO ENTER OUR DIMENSION.
WITH OUR LAST REMAINING FLEET
WE VENTURED INTO THE MOUTH OF MADNESS
AND ATTEMPTED TO DESTROY
THAT WHICH GIVES US LIFE.
OUR OWN SUN. ...WE FAILED.
IF YOU ARE READING THIS THEN
KNOW THAT YOU TOO MUST FAIL.
WE CALL THEM
STARSHOOTER SUPREME
This entry has no reviews.