Legends of Romia: Kamala's Tomb, The
Submitted

September 28, 2007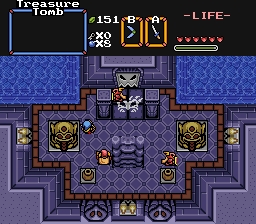 Download Quest
Description
My first complete quest that I'm actually releasing. It features a dungeon "overworld", 6 major levels, and several hidden goodies.
<=== IMPORTANT INFO ===>
YOU NEED A SPECIFIC ZC VERSION TO PLAY THIS QUEST! DOWNLOAD THE ZC 2.5 b254 BUILD FROM THE LINK BELOW:
Story
Venturing from a far off land, Link returns to Hyrule, only to see it destroyed. His first thought, where is Zelda, and is she alright? Link hears a familliar voice from the very ground he stood on, saying to come down. Link does so, and finds Zelda. Link, relieved, asks about the misfortune that befell Hyrule. Zelda explains that Ganon destroyed it in order to find her, but never did. Zelda continues on about how Hyrule can be revived by one single jewel, hidden in a tomb out to the east of Hyrule, in the land of Romia. This tomb was built for the emporer: Kamala. He was an elementalist, and made a jewel with amazing power, which could control every element. With this kind of power, Hyrule could be restored in an instant. Link goes to this tomb, and when he enters, he finds a strange jewel. He picks it up, hoping it was Kamala's Jewel, however, it wasn't. It transported Link to a strange room, of which he encounters Anari, the gaurdian of Fire, Yuken, the Gaurdian of Water, and Eskavana, the gaurdian of Earth. The explain to Link that without the power of the elements, Link will not be able to enter Kamala's chamber, the resting place of the jewel. They continue on about the Yukinari jewels hidden in the 4 elemental shrines in Kamala's tomb, and how they are the only way of opening the chamber. They each had an element. Little does Link know, this will become much more than just a tomb raid...
Credits
The credits are within the read-me included.
This entry has no reviews.