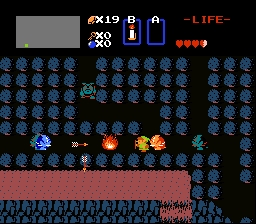 Download Quest
Description
This is a custom quest centering around the idea of the player not having a sword. It contains a completely original overworld with a standard 8 Triforce dungeon concluded with Level 9 structure, but there are 5 optional lettered minidungeons and two postgame optional dungeons. The game attempts to remain "pure" to Zelda 1; only original Zelda 1 enemies and items appear, excluding one of those postgame dungeons which is full of custom enemies and items. Almost the entire design effort focused around balanced, progressive gameplay so graphics are mostly pure classic, the soundtrack is Zelda 1 with a few other Zelda songs mixed in, and there's a lot more combat and basic exploration than puzzle solving. I hope you enjoy it; I spent a lot of time making it just right.
<=== IMPORTANT INFO ===>
YOU NEED A SPECIFIC ZC VERSION TO PLAY THIS QUEST! DOWNLOAD THE ZC 2.5 b584 BUILD FROM ONE OF THE LINKS BELOW:
Story
Ganon has stolen all the swords in Hyrule? Can Link recover the eight pieces of the Triforce and rescue Zelda despite this?
Credits
My little sister helped me make the palettes for the ruins area since she's a good artist.
Hints and/or Cheats
-Early in the games, Bombs will be your only escape from Like Likes. -Arrows should be your first major purchase. Don't wait to get the Bow. -Lettered dungeons are optional. -The Book is not a mandatory purchase. -Every item that was in the 1st quest is in this game... somewhere.
This entry has no reviews.