Fairy's Quest
Submitted

November 1, 2007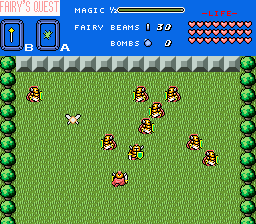 Download Quest
Description
One of my first mini quests. First made using 2.10. Now upgraded to one of the alphas. Improvements and bug-fixes. You control a Fairy character in this particular quest.
<==IMPORTANT INFO==>
YOU NEED A SPECIFIC ZC VERSION TO PLAY THIS QUEST! DOWNLOAD THE ZC 2.5 b254 BUILD FROM THE LINK BELOW:
Story
The Wizzrobes had somehow managed to capture Link and held him hostage in a sound-proof room in a dungeon. They are attempting to concentrate the magic fire on Link, and if he can't take anymore of these, he may burn to dust! Luckily, only fairies were able to hear cry for helps. One of the fairies heard the hero and it is on its way there. You play as a fairy. Guide her straight up ahead, defeating enemies along the way with weapons or fairy abilities. Reach into the sound-proof room before time runs out.
Credits
Myself for making this fine mini-quest. ShadowTiger: Four Swords Pure Link (not as playable character) and the 60 second countdown. From Pure ZC. Mr. Z: Fairy sprite from PTUX. (the only playable character)
This entry has no reviews.