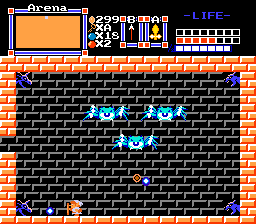 Download Quest
Description
This is a remake of my original custom quest, the Unofficial Third Quest (U3Q). It features a hybrid Zelda 1 / Zelda 2 tileset, several new dungeons, some changes to the original Overworld and dungeons, and much much more!
<=== IMPORTANT INFO ===>

YOU NEED A SPECIFIC ZC VERSION TO PLAY THIS QUEST! DOWNLOAD THE CORRECT ZC BUILD FROM THE LINK BELOW:
ZC 2.5 b758 (Windows)
Story
Rescue Princess Zelda from the evil Volrath (played by Ganon) and save the land of Sarpadia!
Credits
Phantom Menace, War Lord, all current and past ZC Development team members, all my beta testers, Nightmare James, and last but not least BigJoe for pulling me back to AGN.