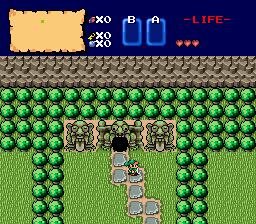 Download Quest
Description
This is a very well-constructed and unusual quest.
Story
Ganon has invaded the world of Shady Oaks, intending to conquor Earth and use it to take over the galaxy! Whats even worst is the fact that Ganon kidinaped King Tom and placed him inside the a volcano. Link was summoned to Shady Oaks because Ganon took control of the Dip-dips and is searching for the Great Seal, a magic portal that links King Tom's world of Shady Oaks with his home planet, Earth. If Ganon ever dissolves the seal, chaos will surely reign forever! Link has one problem: the only blade that can destroy the Dip-dips, the legendary Tomblade, has been sealed with King Tom, and he is imprisoned In the Great Glass Desert, in the heart of the volcano. Find King Tom, destroy the Dip-dips, and save the world!
Hints and/or Cheats
Tips in the readme.
This entry has no reviews.