Depressive Donuts: I Hate Mayonnaise 2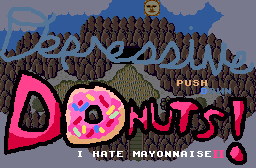 Download Quest
Description
This is a goofy quest I worked on periodically from 2009-2011. It's a spiritual sequel to I Hate Mayonnaise, although unlike the first one, it didn't spawn from a quest contest. It's also a fair bit longer -- there are 5 dungeons and many more minidungeons -- but it still probably won't take you too long to beat. I'd estimate roughly 6-7 hours on the first playthrough, and that's if you bother to retrieve everything. It tries pretty hard to be funny and quirky; sometimes successfully, mostly not really. A lot of the strings spawned from in-jokes on a forum I was on during the development period. It was previously unavailable on ZC.com; I decided to go ahead and submit it.
This was originally intended to be a sister quest to Exate's Pessimistic Pizza, hence the title, and they were meant to come out around the same time. However, due to delays in both quests' development, that plan didn't work out.
I'd say it's fairly easy, especially in terms of combat; any difficulty is much more likely to come from the puzzles.
This quest was mostly designed in 2.10, so it mostly sticks to that version's features. There's not much in terms of scripts or newer mechanics in this quest.
Hope you enjoy it!
Original release: 12/14/2011
Last updated: 02/15/2016. Current version: 1.11.2.
Credits
See ihatemayo2_notes.html for the full credits, including music credits!
Tileset:
Elebreed
Exate
Phantom Menace
Nintendo
Tiles:
Phantom Menace
Warlock
Bloodstar
Exate
4matsy
King Aquamentus
Radien
PrinceMSC
Orion
Wild Bill
Tatsudoshi
Tiles from The Spriters' Resource (http://www.spriters-resource.com/):
Vanarus
Kamon
HeladoDeSol
Ragey
Mystery_Dungeon
Jackster
Mighty Jetters
Techokami
Dasani
Fleepa
Beta testing:
Bloodstar
Exate
Sephiroth
Eppy
Moosh
Shallow water SFX script:
MoscowModder
Special thanks:
Bloodstar
Exate
Grim
Sephiroth
Eppy
Raspberry
This entry has no reviews.