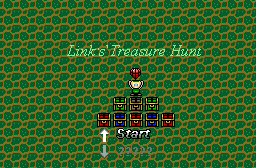 Download Quest
Description
Link's Treasure Hunt is a basic action-oriented quest, without puzzles to bore you. It relies on knowing how to deal with your enemies, and know which items to use at certain times. This quest also has some extras, like a level select, special stages, etc. Coins are needed to open the vault's many chests. You need a certain amount to pass, and you need one to open the desired chest. There are 38 total to be found, two of which can't be obtained by going through the normal levels. There are at least 3 in each level.
This last update contains all previous ones(guide, fixes, etc.), and also adjusts the difficulty of passing some levels, and shop prices. It also contains the password for opening the quest to play around with as you see fit.
Hints and/or Cheats
Check out the guide in the readme.
This entry has no reviews.