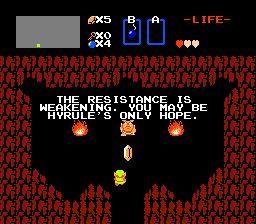 Download Quest
Description
A mix of skill and strategy. A must play for any Zelda enthusiast!! Hope you like it. I put a ton of effort into making this a quality production and while there may be little bugs like a color being wrong you can absolutely 100% play this from beginning to end without getting stuck, buying keys, or any other un-fun things.

Story
"This is another account of Link's journey which includes tales of the Resistance movement against Ganon and the warring factions within his ranks. Expect the unexpected..." -pLeitorian
Hints and/or Cheats
There are lots of tips in the readme.
This entry has no reviews.