The Legend of Zelda: Master Quest
Submitted

November 15, 2012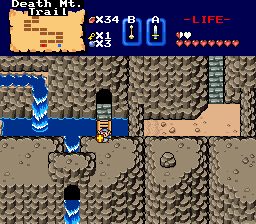 Download Quest
Description
As my very first completed quest in Zelda Classic, Master Quest is for people who played and still remember the 1st and 2nd Quests of the original Legend of Zelda. While not quite as difficult as AlphaDawg's "ZC official" 3rd Quest, it will still provide Zelda experts with a considerable challenge and lots of interesting puzzles.
For those of you who are not *quite* skilled enough to consider yourselves Zelda "experts," the quest comes with a complete FAQ/walthrough, written in question-hint-answer format, so that it won't take away the fun of figuring things out yourself.
Master Quest was built from BS 1st, as you can see, but numerous subtle improvements have been made including custom tiles, layering, landscape "manicuring," area-specific MIDI themes, a new overworld palette, and even lowercase letters! :p As for big changes, there is an entirely new overworld area for you to find and explore, and of course every dungeon is a completely new level.
To maintain the "old school" feel, I've purposely used only the original Zelda items, enemies, and bosses, and most of the other Zelda conventions from the original game still apply. The best way to prepare for Master Quest is to replay the original 2nd Quest. 🙂
Despite these limitations, Master Quest's dungeons are huge compared to the original Zelda. It should provide even speedy players with more than 10 hours of gameplay.
Story
The same as the original Legend of Zelda. Check the Readme for a more interesting retelling of the prologue, which also gives a few hints about the dungeon shapes, just like the original game did!
Creating this quest in ZC took 6 months, but many of the ideas I used have been forming since 1988, when I first played the original Legend of Zelda. So in a way, this quest has been in the making for 16 years. Enjoy. 🙂
Credits
* MQ Beta Testers: *
plith
CrystalBlade
Linkman90
Hero Link
Ian
Codelinker
* Other thanks: *
BH4
Teilyr
Starfox
ms_zelda_lady
The PureZC Forums
Check the Readme for more detailed credits!
Hints and/or Cheats
- When in doubt, remember back to the original Zelda games to determine what should and shouldn't be possible.
- Bomb every wall.
- Burn every bush.
- Play your ocarina on occasion.
- Press against dungeons walls often. Some of them are false walls.
- If there are items you *know* you will need eventually, try to buy or find them as early as you can. MQ GREATLY rewards foresight.
- Refer to the subscreen map often in dungeons. Mark unexplored areas, and remember where you need to go. Backtrack often!
- If you're stuck, search the overworld for hint-giving old men. 😉 In MQ they really are helpful!
If all else fails, check the FAQ included in the zip file for hint-a-licious assistance.
This entry has no reviews.