Son of the Beach Fun Quest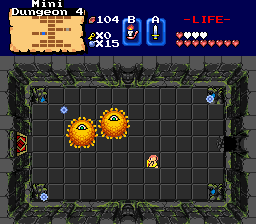 Download Quest
Description
This is a re-release of my second custom quest, now certified to work with the latest ZC 2.5 betas! It features BS-Zelda graphics and some custom tiles. Rated PG for mild innuendo (no profanity).
Quest file updated: 4/14/08
<=== IMPORTANT INFO ===>

YOU NEED A SPECIFIC ZC VERSION TO PLAY THIS QUEST! DOWNLOAD THE CORRECT ZC BUILD FROM THE LINK BELOW:
ZC 2.5 b758 (Windows)
Story
This quest is based (very loosely) on the Howard Stern-produced Baywatch spoof Son of the Beach from the early 2000's. It was one of my favorite TV shows at the time so I figured what better way to honor it than make a Zelda Classic quest based (again, very loosely) on it! Anyway, on to the story... the evil thief Ganondorf, tired of constantly being defeated by Link, chooses to retire to a quaint little village called Malibu Adjacent. However, old habits die hard, and before long Ganon has his minions capture little Peter Goesinya and hold him for ransom. As Link is still living the high life in Hyrule, it's up to you, Notch Johnson, to save him! Absurd storyline? You betcha. But it's no worse than those of actual episodes of the show!
Credits
VEL and Radien for the enhanced BS-Zelda tileset, and Dragon for the Son of the Beach character sprites.
Hints and/or Cheats
For the love of God, read the enclosed readme file! You may learn something! The official Son of the Beach Fun Quest Homepage is located at http://www.kingsquee.com/zc/sotb. It will be updated shortly to reflect this new update.
This entry has no reviews.