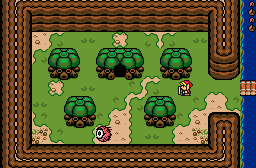 Download Quest
Description
This is my fourth quest made with Zquest and it was made within 3 days. It is a remake of the 1st quest of the original Zelda using Gameboy graphics. It alters many things in the original quest, yet retains all of its secrets and dungeon layouts. You now have to use items to traverse some dungeons and find extra ways around some areas in the overworld. Its a completely new world for the 1st quest, but still somehow strikingly familiar.
Story
Same as the Original Legend of Zelda.
Hints and/or Cheats
There is a fire boomerang in the graveyard, good luck finding it!
This entry has no reviews.