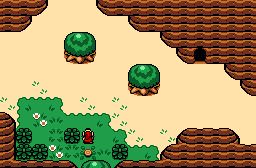 Download Quest
Description
It uses the Newfirst tileset and features 6 triforce dungeons and 1 final dungeon, totaling 7 dungeons with a rather small overworld.
Hints and/or Cheats
The flute can open access to a new dungeon once you have it and beat the dungeon that it resided in. The super bombs are limited, be wary of where you use them.
This entry has no reviews.