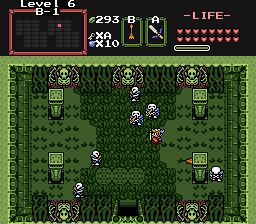 Download Quest
Description
Zip-file contains the story, 12 Dungeons, 1 overworld, a big Readme, and a list of my quests.
Story
It's Link's 18th birthday so that means the Triforce can grant 1 wish for him. But when he arrives at the Triforce Temple his mother tells him the Triforce has been stolen and princess Zelda has been kidnapped... Well... You know what to do...
Hints and/or Cheats
Read the Readme (that's what it is for). If you're stuck, sometimes it can help you.
This entry has no reviews.