Castle Haunt
Submitted

October 20, 2004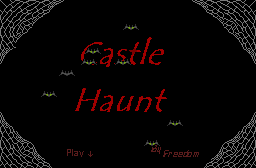 Download Quest
Description
This quest is nothing fancy, I knocked it out in about a month for the tricker treater in you. there are 8 Newts Eye (triforce) Chambers and then the main Chamber where the main spook, Ganon awaits you.
Updated in the 2.50/2.53 format to work properly on modern versions of ZC, by ZoriaRPG: The original quest (and sfx.dat file) for 1.92b183 is still included.
Story
A Warrior's job is never done, and he never chooses the places he has to go to apply his trade. He would have preferred setting at home beside the loving Zelda, and handing out the candy to the little trick-or-treaters gracing his doorstep, but a rescue was in order, and never mind that it was in a Haunted Castle. Who's afraid of that spook?
Credits
Special thanks to Elise, Joe, and Ielen for beta testing, and to Polygon8 for releasing his grim reaper sprites which were used in several frames.
Hints and/or Cheats
The spooky sound file makes the quest, move yours to another folder or rename it before grabbing this one. The sfx.dat is included in the zip.
This entry has no reviews.