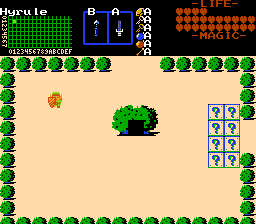 Download Quest
Description
A whole new quest for link to set out on! New items! New swords! Larger dungeons and overworlds! 3 overworlds, 8 normal dungeons, quite a few extra dungeons, and flags you must try to trigger!
<=== IMPORTANT INFO ===>

YOU NEED A SPECIFIC ZC VERSION TO PLAY THIS QUEST! DOWNLOAD THE CORRECT ZC BUILD FROM THE LINK BELOW:
ZC 2.5 b635 (Windows)
ZC 2.5 b639 (Linux)
ZC 2.5 b643 (Mac)
Story
Ganon must die; Link must travel through hyrule to save him!
Credits
Thanks to Gleeok for the MP3 help and Pineconn for helping me add the quest.
Hints and/or Cheats
theres a level 4 code thats not easy to guess level 9 is hidden within level 8! and the route through the desert maze is right, up, right, down
This entry has no reviews.