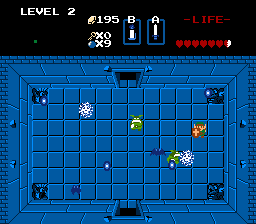 Download Quest
Description
Remake of the first quest with lots of new additions offered by the 2.50 beta version of ZQuest, such as new enemies, new items, a more realistic overworld and Link colorset. New dungeon colors and four hidden bonus caves with one heart container piece each.
<=== IMPORTANT INFO ===>

YOU NEED A SPECIFIC ZC VERSION TO PLAY THIS QUEST! DOWNLOAD THE CORRECT ZC BUILD FROM THE LINK BELOW:
ZC 2.5 b780 (Windows)
Click here to find Mac or Linux versions!
Story
It's the same as the original quest story line.
Credits
The only credit goes to Matt for helping out with technical issues (editor).
Hints and/or Cheats
The four bonus caves are all in the north-western area of Hyrule, one of them even within the graveyard region.
This entry has no reviews.