Neo OoT Title
Submitted

December 11, 2016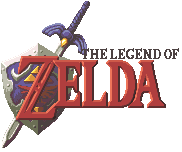 Download Loose Tile
Description
This is pretty much a major update of Teilyr's old OoT title.
Changes:
--Realistic lighting effect added by using gradients
--Changed palette to enhance realism and accuracy
--No borders
--Background color reflects that of OoT box art and doesn't drown title in brightness(Neon purple is out!)
--"Zelda" is changed to the standard style, as seen in OoT
--Top text is changed; three versions availible
Enjoy! It only took 8 hours to complete.
EDIT: Complete Hylian Shield added,and the hilt has been changed for accuracy.
Credits
sfx989--creator of the original
Xavier for submission of the original
...And last but not least, myself
This entry has no reviews.