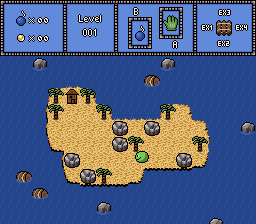 Download Quest
Description
Island Adventure is a completely different quest. It has nothing to do with Zelda. In every level you have to reach the house. There are 100 levels!
- Many many different puzzles, reaching from creative original puzzles to different kinds of block puzzles
- You can save in any level
- Selfmade tileset
- A great custom boss at the end of the game
Try this out! How many levels can YOU beat?
Story
No story. Just puzzles.
Credits
aaa2 - Controllable Raft Script
blackbishop89 - Blue/Red Block Script
MoscowModder - Various important Scripts
Bjorn Lynne - Various midis
Radien - Some tiles from his DoR tileset
I made the palette and more than 50% of the tiles in this quest myself.
Hints and/or Cheats
No cheats. If you need any help on a certain level, just ask in the help thread.
http://www.purezc.co...showtopic=56679
IMPORTANT:
You have to set up the Ex1-4 buttons, to control the raft. Set these up in the ZC player!
This entry has no reviews.