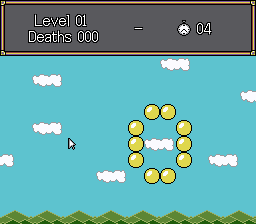 Download Quest
Description
This is just a little something I made while I was boring..
It\'s the Cursor Challenge!! Can you beat all 80 Levels??
Instructions:
This quest only needs the mouse, no buttons (except the left mouse button). To start a level, hover your mouse over the cursor and click it. Then collect everything / destroy everything / etc, in time to beat the Level and continue to the next one.
Story
Think up your own, while playing 😀
Credits
Nintendo, for being awesome.
PureZC, for hosting
VGMusic, for DK music.
Moosh, for scripting inspiration
allb, for help.
Avataro ;D
Hints and/or Cheats
No tips, no cheats. If youre stuck in a Level, try to be faster 😉
This entry has no reviews.