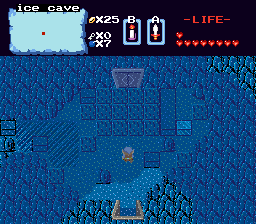 Download Quest
Description
I made this quest as part of a 3-hour quest contest back in August of 2009. I didn't end up finishing it in time, so it ended up taking roughly 5 hours to finish, not counting bugtesting and subsequent updates. It is heavily improvised and many of the strings and design decisions are the first things that came to mind. It was previously unavailable on ZC.com, but I figured it ought to exist here, too. It shouldn't take you longer than an hour and a half to beat, and that's a very liberal estimate.
It was made for 1.92 Beta 184... although it probably works fine in later versions.
Original release: 08/03/2009
Last updated: 02/16/2016. Current version: 1.13.
Credits
3-hour quest contest idea:
Aslion
Other quest contest participants:
Hubydweyer
Elebreed
Nuvo
Tileset:
Nintendo
Phantom Menace
Elebreed
4matsy
Exate
Music:
Various from VGMusic, see Quest -> MIDI Info...
This entry has no reviews.