Demo Module
Submitted

September 13, 2019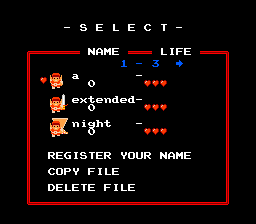 Download Module
Description
Demo 1st, and Demo 2nd Quests, by NightmareJames, packaged together as a module for ZC 2.55, with a custom file select screen, and a blank quest file that easily allows creating more quests in this style.
The included quests are Demo 1st, and Demo 2nd, as 1st and 2nd Quests.
You can skip to Demo 2nd with the player name NIGHTMARE.
Credits
NightmareJames, ZoriaRPG (module files)
This entry has no reviews.