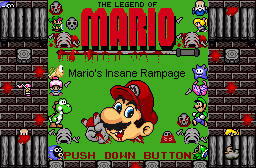 Download Quest
Description
This game is based on some comics I made many years ago. The game takes place in an alternate universe where Mario and most other characters are insane.
Story
Almost everyone is Mario's enemy including the mushroom people, Luigi, Toad, Princess, Link (Zelda characters are also in this game), Yoshi, even the fairies are his enemies! WARNING this game is sick, twisted and perverted play at your own risk.
This entry has no reviews.