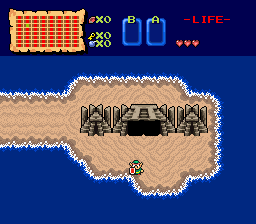 Download Quest
Description
This game is long and can get tough. It's not for the timid and weak-hearted. You must know how to wield a sword! There is a full size overworld, three other partial overworlds, three small dungeons, seven regular dungeon levels, and two huge dungeons (levels 8 and 9). It progresses quickly always with new places to explore.
Story
Ganon's back. He has returned with a strong and evil empire of monsters and stole the all mighty triforce. For now he has broken it up into eight pieces and hid them in his vast empire, while he sets his plan in motion to kidnap the princess. Only you, Sir Link, can stop Ganon and his lynch-men. May the triforce be with you and good luck.
This entry has no reviews.